What Is Social Media Marketing?
Businesses and brands use social media platforms like Facebook, Twitter, Snapchat, Instagram, YouTube and Tik Tok to connect with their audience, enhance sales, convert leads into buyers, build their brand, and increase website traffic. Social media marketing involves producing curated content, distributing that content in ads, pictures, infographics, and videos across social media networks, engaging with followers, and analyzing results.
How Social Media Marketing Works
Social media platforms enable digital marketers to strategize and implement a plan to support business goals through content and community engagement. Social media marketing depends on 5 pillars:
A strategy that defines goals and the type of content to share
Planning and deciding how content will be distributed
Listening and engagement using a social media engagement tool
Analysis and reporting about the commitment and scope of work for different social media channels to see results is fundamental
Advertising to develop brand awareness and promote campaign goals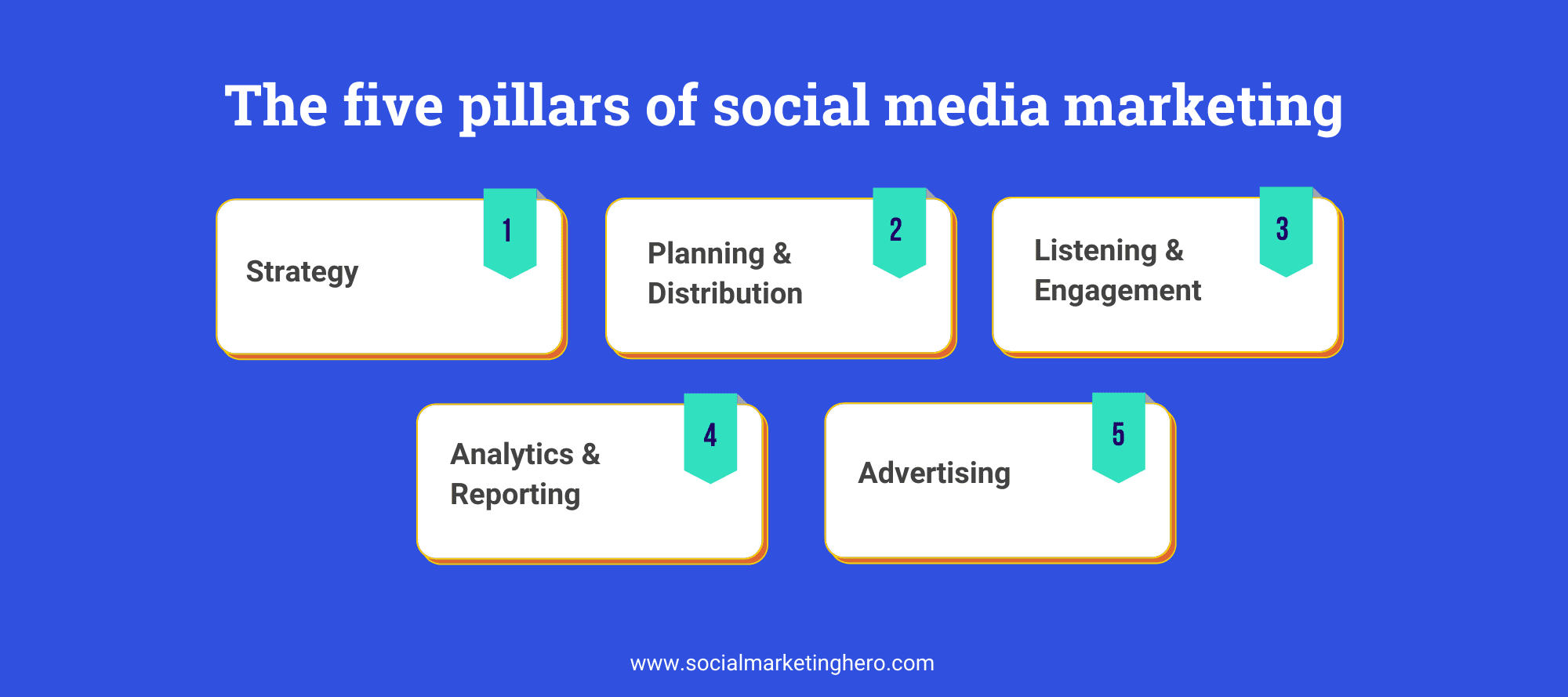 Purpose of Social Media Marketing
Businesses use social media marketing for several reasons, including:
1. Enhancing Brand Awareness
Brand identity and awareness can be enhanced through visibility on social media. Engagement can be gauged through likes, comments, shares, reviews, and saves.
2. Generating Potential Leads and Increasing Conversions
Creating relevant content on your products and services and posting it on your social media platforms drives lead generation, conversions, and high sales.
3. Maintaining Relationships with Prospects and Customers
You can build a lasting relationship between your social media followers and your business by interacting directly with your social media followers. You can answer their questions about your products or services, respond to their reviews, educate them about your business, and help them learn more about your brand on a platform they frequent often.
Social media marketing is a great way to monitor your competitors, see what's working for them, and use strategies to attract more business. You can also compare your social media channels with your peers to ensure that your marketing is on-par with current trends ahead of your competitors.
Steps to Creating a Good Social Media Strategy
Step 1: Investigate the buyer's persona and audience
The whole idea of 'know-your-audience" is to address their needs and interests. As part of your social media strategy, you could consider dissecting your target demographics into smaller groups based on their interests to create targeted content and achieve more accurate results.
Step 2: Decide which social platform to market on
As a social media marketer, it's vital to decide on a platform to share your content on and analyze the ones that work best for your business. For some, YouTube video marketing could work the best, while for others, creating reels on Instagram could be a better solution or sharing regular Twitter threads may be best for others.
Step 3: Create unique, SEO-enriched, and engaging content
What's compelling depends on your viewers' interests. When creating content—whether in pictures, text, animations, presentations, or videos— it's important to ensure you're speaking to the issues, themes, and ideas that will appeal to what your audience cares about while being mindful of what makes sense for your brand.
Step 4: Organize your posting schedule
Use appropriate tools to create captions, titles, descriptions, images, videos, and timeline posts in advance, so you have ample time to interact with your audience.
Ready to grow with social media marketing? Book a demo with a SocialHero expert to learn how you can grow your online presence and start seeing business results.